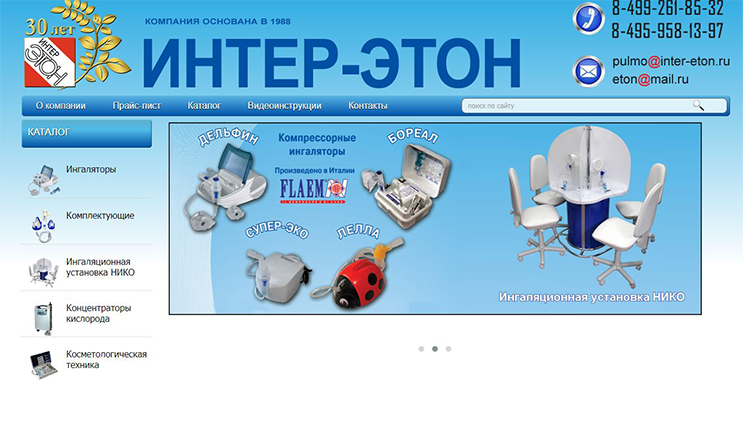 LLC "Inter-Eton"
NÚMERO DE IDENTIFICAÇÃO DO CONTRIBUINTE7701012208
ENDEREÇObld. 10/9,Bolshaya Tulskaya str., Moscow, 115191
TELEFONE+7 (495) 958-13-97
INFORMAÇÃO CORPORATIVA
The Inter-Eton company was created in 1988 by the resolution of Council of Ministers of the USSR as the Soviet-Bulgarian enterprise for development and production of medical equipment for diagnostics and treatment of diseases of respiratory organs within the head technical Institute of Ministry of health of the USSR-the all-Russian research and test Institute of medical equipment. Currently, inter-Eton is an independent company. In the medical market Russia the company is a manufacturer of unique 4-berth mobile inhalation compressor installation "NIKO", of the machine vacuum massage and inhalation ETON-VM kokteyler oxygen of the OXIME.
TIPO DE ATIVIDADE (NACE REV.2)
72.19
Other research and experimental development on natural sciences and engineering
MERCADOS DE EXPORTAÇÃO ATUAL
CÓDIGO DO PRODUTO (HS 2017)
901920
Therapeutic respiration apparatus; ozone, oxygen, aerosol therapy apparatus; artificial respiration or other therapeutic respiration apparatus